Amish Wagons, Scooters, & Trikes
Please note: Some items may take up to two weeks for delivery. If you are in a rush, please call or email for delivery schedule for your item.
Click here for all Speedway Express Wagons and Trikes
Speedway Express Wagons:
---
Amish Scooters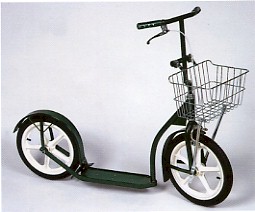 Please click here to visit our Scooters Section for more information and to order.
These authentic Amish scooters are used by Amish adults and children as a means of transportation. The adult version is suitable for children over seven years of age.
- All Steel Frame and fenders
- Powder Coated Finish
- Wire spoked or White nylon Wheels
- Ball bearings for easy controlled steering
- Adjustable handle height
- Rear foot brake and hand brake (adult model)
- Kickstand (adult model)
---