Amish Pleasures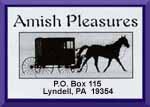 "If the Amish make it, you'll find it at Amish Pleasures."
www.amishshop.com
---
Egg Noodles
Place 2 cups of flour and the salt in a large mixing bowl. Make a well in the center and add the egg yolks and water. Stir until well blended. A food processor does this very quickly. Mix until you can work the dough into a ball, kneading to make it smooth. Cover with plastic wrap and let stand for at least 30 minutes. If using a pasta machine, cut dough according to directions. If rolling by hand, divide dough in thirds. Dust a generous amount of flour on top and bottom of each piece. Roll the dough as thin as you like the noodles, and flour both sides generously. Trim the edges, so that the dough is a neat square or rectangle. Starting at the one end, roll the dough into a very tight roll, as for a jelly roll. Using a sharp butcher knife, cut the roll into thin slices, approximately 1/4" wide. As the slices fall onto the cutting board, toss them lightly with your hands so they do not stick together. Place on clean towels or a tablecloth to dry before cooking. Do not let them stick together. Noodles, after being thoroughly dried, may be stored in an airtight container for weeks. They also store well in the refrigerator or freezer.
To Cook:
Place salt, butter and water in a 2-quart sauce pan. Bring to a boil and add the noodles. Reduce heat to medium and boil, stirring occasionally, for approx. 10 minutes. Drain and serve with browned Butter.

Browned Butter:
Melt 1/2 pound butter over medium-low heat in a heavy 1-qt saucepan (the butter has a tendency to boil over, so make sure you have a big enough pan). After it melts, stir occasionally until ti starts to brown. Remove from heat before it burns. If it gets too dark, it will lose its flavor and become bitter; it should be just a rich nut brown.

2½ c. all-purpose flour
1/2 t. salt
4 egg yolks, or 3 whole eggs
1/2 c. cold water

Needed To Cook Noodles:
1½ t. salt or salt substitute, 1/2 t. pepper will substitute
1 T. butter or oil
1 qt. water

Browned Butter:
1/2 pound butter
To print this recipe highlight the text then print the selection.
The recipe above appears in:
Up-Home, Down-Home represents the cultural development of recipes from the most intimate, formal setting to the easy-going, spur-of -the-moment family dinner. Quick, easy to prepare dishes include many favorites from the Chefs at the Groff's Farm Restaurant. Fully illustrated, some in color, 208 pages. Hard-cover edition.

Betty Groff's Up-Home, Down-Home Cookbook More info. and/or Buy
We ship only to USA and APO/FPO
addresses.
---
---
---