Handcrafted Ceramic Dinnerware from Lancaster County, Pennsylvania
Please call 484-722-8259 or email us for information about our ceramics.
On a farm in the heart of the Amish country in Lancaster County Pennsylvania, an Amish gentleman quietly and skillfully creates beautiful ceramic plates, bowls, pitchers, sugar bowls, creamers, butter dishes, and other dinnerware of all sizes and shapes. The barn, which once held his herd of cows and horses, has been converted into an artisan's ceramic studio. Each piece is carefully molded, painted, and kiln-fired. Then the design and glaze are added to each ceramic piece and into the kiln they go for a second firing ... it's a beautiful thing!

Ceramic pieces take shape and are prepared for the kiln.
Click on pictures for an enlarged view. Use back button to return here.

After being kiln-fired, the ceramic pieces await the application of designs and glaze, then it's back into the kiln for a final firing.
The result is Handcrafted Ceramics.
Navy Trim with Muted Blue Rose Collection (NMBR)
Note: Please allow 2>3 weeks for delivery.
<<<<Oval Cannister 4-Piece Set NMBR (#1) $119.95
<<<<Tea Pot (shown in Ivy design) NMBR (#2) $49Large Sugar Bowl NMBR (#3) $29Large Creamer NMBR (#4) $25

<<<<Butter Dish NMBR (#5) $2 Gravy Boat NMBR (#6) $29 Small Sugar Bowl NMBR (#7) $19Small Creamer NMBR (#8) $14Salt & Pepper Shakers NMBR (#9) $25Dinner Plate NMBR (#10) $19

<<<<Mini Pitcher & Bowl NMBR (#11) $16Flower Vase NMBR (#12) $29Cookie Jar NMBR (#13) $49Kitchen Utensil Holder NMBR (#14) $35Spoon Rest NMBR (#15) $19Cup & Saucer NMBR (#16) $19

<<<<Tea Pot Clock (uses 1 AA battery) NMBR (#18) $49Medium Pitcher & Bowl (shown below) NMBR (#19) $35Platter Plate (not shown above) NMBR (#20) $29 Round Kitchen Utensil Holder NMBR (#21) $33Small Egg Plate (shown below) NMBR (#26) $27 Round Canister Set (shown below) NMBR (#28) $119.95 Oval Egg Plate NMBR (#30) $39Gem Canister Set of 4 (shown below) NMBR (#33) $119.95X-Large Pitcher & Bowl NMBR (#38) $75Water Set-Pitcher & 6 Tumblers (shown below) NMBR (#46) $69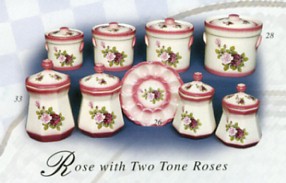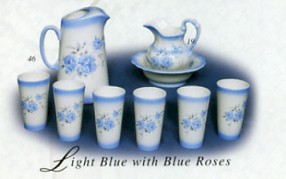 All Ceramic dinnerware can be ordered in other designs and colors.



DESIGNS are pictured below and include: Two Tone Roses (pictured above), Blue Roses, Muted Blue Rose, Muted Plum Rose, Burgundy Rose, Navy, Muted Yellow Rose, Muted Plum Rose, Ivy, Plum Rose, and Pansies.
TRIM COLORS are: Navy, Light Blue, Dark Green, Light Green, Blue Teal, Lavender, Burgundy, and Rose.
Please specify your choice of Design and Trim Color in the Comment Box that appears during the Checkout Process.