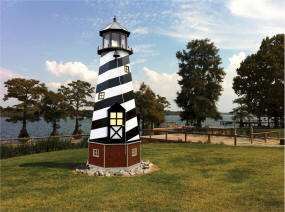 17' Hybrid Lighthouse

Our Hybrid lighthouses are made with a poly base, wood center, and a poly top. Since the top and bottom are the first to feel the effects of the elements, the Hybrid lighthouse is built to stand the test of time. Poly will not splinter, crack or fade and needs no painting. The wood center portion is handcrafted from a top quality signboard plywood and painted with a high-grade exterior paint.
The commercial-use Hybrid lighthouse pictured above is great for the lake, restaurants, marina or for making a statement on your property. It is 17' high and 66" wide at the base. Approx. 20 square feet of storage.

$2,995
excluding freight.
Please call 484-722-8259 or

email

for more information and the cost of shipping.



Note

: Size range 2' to 20' with a good variety of color combinations possible. Please call or email if you are interested in a Hybrid Lighthouse.