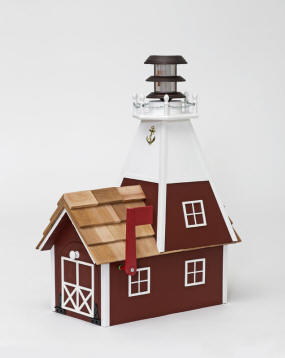 This handcrafted wooden Solar 4-Corner Lighthouse mailbox has natural cedar shingles for the roof. The size is 10" W x 18" L x 26" H. Meets U.S. Postal Service requirements. Trim and decoration are weather-resistant plastic. The floor and sides are MDO-exterior grade plywood. Double-tier solar light included.




Colors

available for this mailbox: Red, Charcoal Brown, Chestnut, Cream, Forest Green, Dark Gray, Hunter Green, Wedgewood Blue, White, Almond, Cape Cod Gray, Black, Brown, Blue, Navy Blue, Beige, Light Gray, Navajo White, and Clay.




Please specify

main color and trim color

in the comment box that appears during the checkout process.



Wooden Solar Lighthouse
Four Corner Style

$169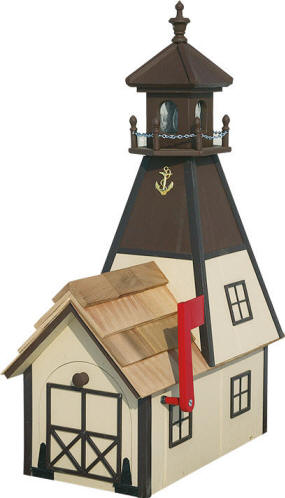 (Shown beige w/dark brown trim)
This handcrafted wooden Candle Light Lighthouse mailbox has natural cedar shingles for the roof. The size is 10" W x 18" L x 26" H. Meets U.S. Postal Service requirements. Trim and decoration are weather-resistant plastic. The floor and sides are MDO-exterior grade plywood. Candle light and 4" cord included.


Colors

available for this mailbox: Red, Charcoal Brown, Chestnut, Cream, Forest Green, Dark Gray, Hunter Green, Wedgewood Blue, White, Almond, Cape Cod Gray, Black, Brown, Blue, Navy Blue, Beige, Light Gray, Navajo White, and Clay.




Please specify

main color and trim color

in the comment box that appears during the checkout process.


Wooden Four Corner Candle Light Lighthouse

$169



(Shown red with white trim)
The Swirl Solar Lighthouse Mailbox is handcrafted using MDO exterior grade plywood. It has natural cedar shingles for the roof.
Trim and decoration are weather-resistant plastic. The size is 10" W x 18" L x 26" H. (Note:
The solar light for the Swirl Solar Lighthouse Mailbox is the double-tiered type as pictured in the Four Corner Style Solar Lighthouse.)



Colors

available for this mailbox: Red, Charcoal Brown, Chestnut, Cream, Forest Green, Dark Gray, Hunter Green, Wedgewood Blue, White, Almond, Cape Cod Gray, Black, Brown, Blue, Navy Blue, Beige, Light Gray, Navajo White, and Clay.


Please specify

main color and trim color

in the comment box that appears during the checkout process.


Wooden Solar Lighthouse
Swirl Style $169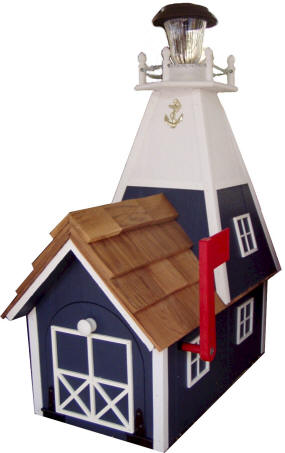 4-Corner Style shown Navy with White Trim.
(

Note:
The solar light you will receive is the double-tiered type as pictured in the Four Corner Style Solar Lighthouse at the beginning of this row.)